*This post may contain affiliate links.*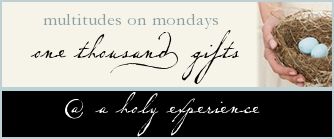 Relationships are important to me. At one point in my life, I was certainly more shallow with them. I did not realize that the value of the relationship outweighed the details that came before the relationship. I believe that in some cases, I lost out on relationships that could have filled my life with love and joy.
Growing up, in both age and maturity, has taught me a lot. Having a son with special needs has taught me what is truly most important in life. It is not the details, it is the heart of the person at that moment. The hearts involved in relationships, just like my heart in my relationship with Christ, fades the past mistakes. It focuses on the love of today, not the wrongs of yesterday.
This week, I am sharing gratitude for:
401. My relationship with Christ
402. The way God has changed my heart over time
403. My relationship with Chad. It hasn't always been easy, but God and love win!
404. The special relationships I have with each of my children.
405. Special friends who are always close by with an encouraging word or prayer
406.  D's teacher who feels comfortable enough to tell me like it is, and I know she loves him
407.  My Mama, Daddy, Josh & Jared, who have seen the good, bad, and ugly, & still love me
408. Extended family members who have been with us through some very difficult times
408. Chad's family who has accepted me into their family, who loves me as one of their own
410.  New and renewed relationships with some very special people who have blessed me beyond anything I ever expected.
God is always faithful. Through Him, I have the chance to continue to grow and love. I have the chance to spread His love through my relationships with others. I pray that I am doing that with each of my relationships.