*This post may contain affiliate links.*
*Note: New pics at the end of the post. 🙂


This past week has been much like a roller coaster. It has been up, down, twisty, and fast! I can hardly believe it's been so long since I last posted. It feels like only a couple of days ago.
We have had the opportunity to take a small family vacation, had some big meltdowns with a kid or two, a birthday, a run in with someone who chose to make unnecessary comments about our family, and everything in between. It has been crazy!
All in all, we have been blessed and I have been able to find the positive in everything. Unfortunately, the one thing that has rubbed me the wrong way I just cannot seem to shake. It has been the source of many posts on this blog over the last 7 months. The school system and I are still going round and round. Every time we get ready to withdraw D for homeschooling him, they throw out another bone. Since homeschooling has not been our first choice, we have been continually giving them the benefit of the doubt. In the last week, their benefit of the doubt has moved to a more serious level. With that has come an enormous amount of stress and anxiety. When someone from the district made inappropriate comments about our family today, it took that level of stress and anxiety to a whole new level.
Rather than focusing on the negative feelings that came with that, I have decided to focus on the following verses this week. I do not hate anyone from the school system, in fact I don't hate anyone. Frustrated? Yes, very much so. Angry? Yes, a bit. I don't hate them, though.
A good friend of our family says, hate the sin, love the sinner. I think that's what these verses are saying. If we are going to represent God, and let His light shine through us, then we cannot present ourselves with hate, but shower everyone with true love. We are God's children, God loves us when we do wrong, and we must do the same. I pray that I am teaching my children to love others as God loves us and I love other people.
(43) You have heard that it was said, "Love your neighbor and hate your enemy."
(44) But I tell you, Love your enemies and pray for those who persecute you,
(45) that you may be children of your Father in Heaven.
He causes the sun to rise on the evil and the good,
and sends rain to the righteous and the unrighteous.
Matthew 5:43-45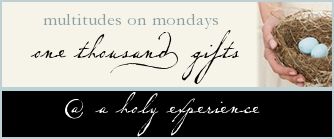 A couple of days late, but my list of things to be grateful for could go well past the 20 this week. My heart is so full of joy and happiness and as I think of the things to list each week I am finding even more to be thankful for. I just praise God for these small blessings, they are often so much bigger than the big blessings!
101. family time
102. a small vacation with my family
103. seeing the girls' faces light up when they saw the one store they've wanted to visit for a while now
104. hearing the girls say, "I know we can just look, it's too esspensiff to buy something there."
105. hearing the girls excitement when I tell them we can buy something
106. good travels with D
107. D's ability to handle the anxiety that comes with travelling
108. the indoor swimming pool at the hotel that allowed us to wear the kids out both nights
109. seeing D & Samoo with their new items they bought with Daddy
110. the girl time that made my girls feel special
111. D finally coming to a point with his anxiety that he is able to eat in a restaurant
112. Chad and I finally learning that when D is getting anxious, we back off and go home
113. the kids helping me out a lot this week since I've been sick
114. the camera that allowed me to take a lot of pictures over the weekend
115. my new love of reading
116. a fisher price train we found in a box of toys from our old house that has brought Samoo lots of fun
117. unexpected opportunities to share God with my children
118. beautiful early morning clouds
119. phone calls from my 1y/o nephew that give me a chuckle since Samoo does the same
120. a possible sponsor to the 2:1 conference that I have been praying about!!
A few pics from our trip since I know you're all just dying to see them. 🙂